Dr Isamu Akasaki, 1952 Kyoto University graduate and current professor at Meijo University and professor emeritus and distinguished professor at Nagoya University, visited his alma mater on 15 May to receive an honorary doctorate and give a commemorative lecture.
Kyoto University's honorary doctorate is conferred upon individuals who either 1) have made outstanding contributions to the University's education or research, or 2) have made exceptional achievements in science or culture that are deemed worthy of recognition by the institution.
Dr Akasaki was awarded the distinction for the latter reason -- namely, for his work leading to the "invention of efficient blue light-emitting diodes, which has enabled bright and energy-saving white light sources", an achievement for which he and two other researchers were awarded the 2014 Nobel Prize in Physics.
As the conferment ceremony began, President Juichi Yamagiwa congratulated the 86-year-old KU alumnus, saying, "You followed your insatiable curiosity and passion to open a new frontier in science, and, in so doing, have become an inspiration to all our students."
Dr Akasaki responded: "I am extremely honored to be recognized in this manner by my beloved alma mater. I remember the time when, as a new KU student, I heard the news of Dr Hideki Yukawa receiving the 1949 Nobel Prize in Physics. It all felt like something happening in another world, so to speak. At the same time, however, I vowed that I too would accomplish something unprecedented -- whether that would earn me a Nobel Prize or not. I would say that what I did with blue light-emitting diodes was without precedence. Honestly, I cannot help but be moved by this thought."
Following the ceremony, Dr Akasaki delivered a commemorative lecture to the capacity crowd, bringing the day to a memorable conclusion.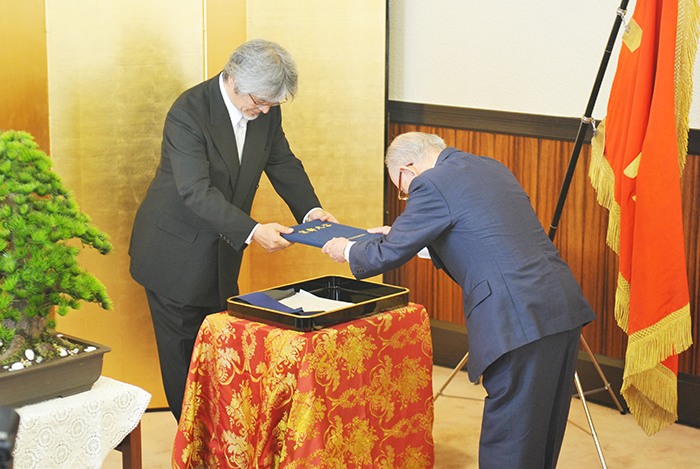 President Yamagiwa (left) and Dr Akasaki at the conferment ceremony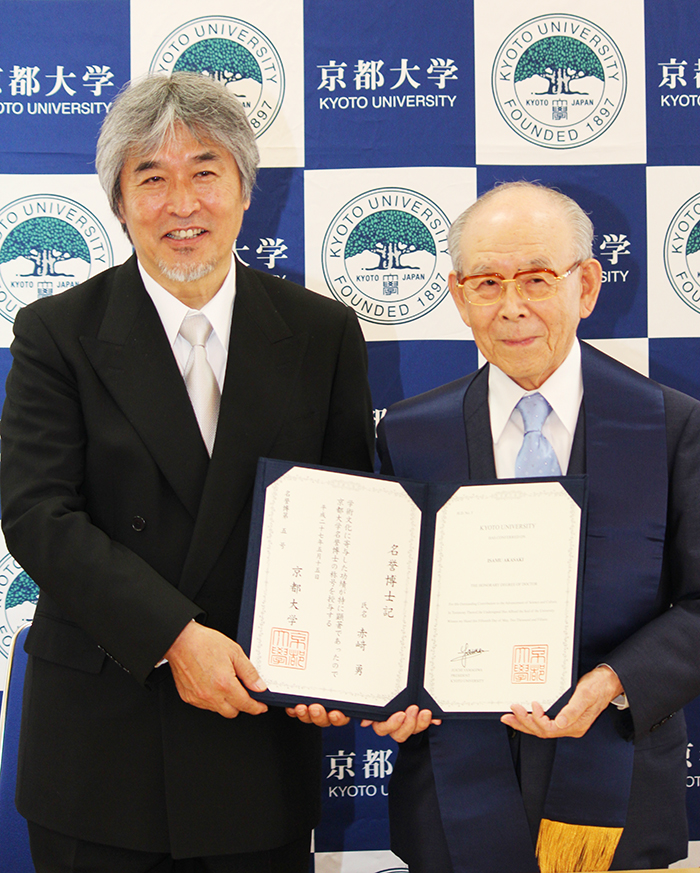 President Yamagiwa (left) and Dr Akasaki during a press conference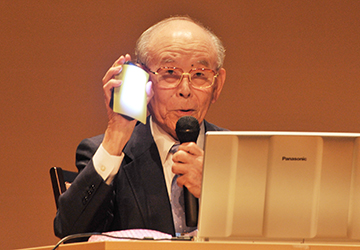 Dr Akasaki addressing the audience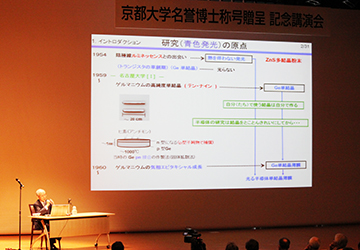 During the lecture
Related links