The Graduate School of Education's Praxis and Research Center for Clinical Psychology and Education organizes a recurring education seminar once a year for specialists engaged in educational consultation activities (kindergarten, elementary school, junior and senior high school teachers; nurse-teachers; and clinical psychology specialists) as part of its training programs. It aims to take a deep look at the minds of children and education through phenomena posing great challenges today in the classroom, such as truancy, delinquency, bullying and developmental disorders. Every year, passionate teachers and clinical psychologists from around the country participate in the seminar.
With ninety participants in attendance, the seventeenth seminar focused this year on the general theme of "Support and Response to Families."
The morning session proceeded in the form of a symposium with three speakers (a psychiatrist, a clinical psychologist and an elementary school teacher) who are facing in different ways the issue of "support and response to families." The afternoon session was devoted to case study workshops.
At the symposium, three speakers shared their experiences in terms of how they tried to understand the problems of families and supported or responded to them in their respective fields of medical care, clinical psychology, and school education. In case study workshops, participants and faculty staff members vigorously exchanged views on the specific cases of families with problems such as truancy, child abuse or parent-child relationships. Participants left such favorable comments as "It showed me that we need to do something not only with children who have problem behaviors but also with their families" and "I would like to try to support families in my field using the suggestions I obtained from today's discussions." The center plans to continue with the seminar next year and beyond.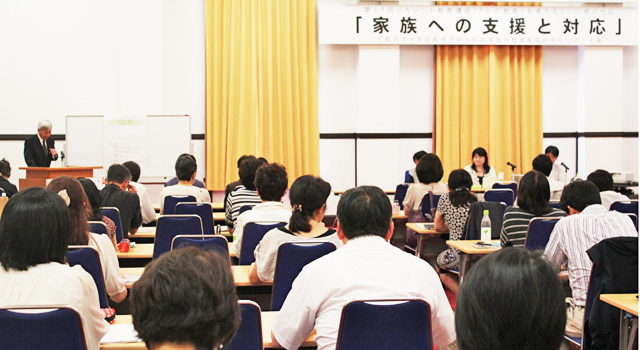 Symposium
Related departments & centers