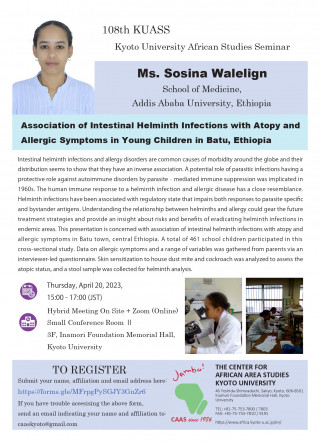 Registration required
Registration required
Intestinal helminth infections and allergy disorders are common causes of morbidity around the globe and their distribution seems to show that they have an inverse association. A potential role of parasitic infections having a protective role against autoimmune disorders by parasite-mediated immune suppression was implicated in 1960s. The human immune response to a helminth infection and allergic disease has a close resemblance. Helminth infections have been associated with regulatory state that impairs both responses to parasite-specific and bystander antigens. Understanding the relationship between helminths and allergy could gear the future treatment strategies and provide an insight about risks and benefits of eradicating helminth infections in endemic areas. This presentation is concerned with association of intestinal helminth infections with atopy and allergic symptoms in Batu town, central Ethiopia. A total of 461 school children participated in this cross-sectional study. Data on allergic symptoms and a range of variables was gathered from parents via an interviewer-led questionnaire. Skin sensitization to house dust mite and cockroach was analyzed to assess the atopic status, and a stool sample was collected for helminth analysis.
Basic info
Venue
Audience
Prospective Students
Current Students & Staff
Alumni
Visitors
Corporations & Researchers
Details
Speaker
Sosina Walelign, School of Medicine, Addis Ababa University
Language
English (no interpretation provided)
Registration
Procedure
Please fill out the KUASS Registration Form
or send an email including your name and affiliation to:
caaskyoto*gmail.com (replace * with @).
Deadline
Contact info
Center for African Area Studies (CAAS)
Email: caaskyoto*gmail.com (replace * with @)
Related departments & centers