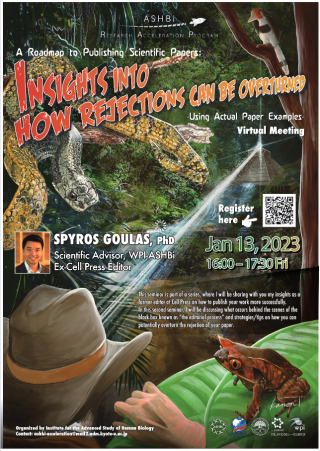 Registration required
Registration required
Understanding the Nature of the Editorial Process — Fight or Flight the Rejection Letter —
There comes a time and place where one needs to fight for what they believe in. This is also true for the Editorial/Publication Process of your paper. However, determining when, where, and how are critical.
In this second seminar from the series entitled, 'A Roadmap to Publishing Scientific Papers', Dr Spyros Goulas will guide you through the jungle known as 'the editorial process' using actual papers and provide strategies/tips on how you can potentially overturn the rejection of your paper. ALL levels of students, researchers, and PIs are welcome!
Basic info
Venue
Zoom Online Meeting
NOTE: High-speed LAN/WiFi environment advised for stability
Audience
Current Students & Staff
Corporations & Researchers
All levels of academic Researchers and PIs are welcome.
Details
Speaker
Spyros Goulas (Scientific Advisor, ASHBi / Former Scientific Editor at Developmental Cell)
Language
English (will also accept questions in Japanese)
Registration
Procedure
Registered participants only
Zoom link will be sent to registered participants.
Deadline
Other info
This seminar is held as a part of the ASHBi Research Acceleration Seminar Series. If you are interested in other seminars, please check Research Acceleration Programs.
Contact info
ASHBi Research Acceleration Unit
Email: ASHBi-acceleration*mail2.adm.kyoto-u.ac.jp (replace * with @)
 
Related departments & centers