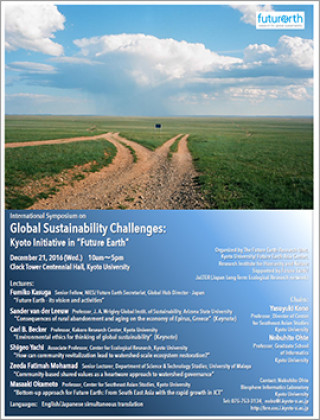 Registration required
Registration required
Future Earth is an international research initiative dedicated to promoting interdisciplinary and trans-disciplinary studies on topics of importance to global sustainability.
Co-organized by the Future Earth Research Unit, Kyoto University and the Future Earth Asia Center of the Research Institute for Humanity and Nature (RIHN), the present symposium will introduce researchers, students, and members of the general public to the structure and functions of the Future Earth platform, with speakers from a broad range of scientific disciplines offering insights into the project's prospects and challenges.
All those interested are invited to join the discussion on Future Earth's possible new directions and approaches, with a focus on activities in Asia.
Basic info
Audience
Researchers, university and high school students, Kyoto University faculty and staff, and members of the general public
Registration
Deadline
Wednesday 21 December 2016
Contact info
Nobuhito Ohte, Professor, Graduate School of Informatics, Kyoto University
Phone: 075-753-3134
Email: nobu*i.kyoto-u.ac.jp (Please replace the * with @)
Related departments & centers