Seifuso Villa Registered as an Important Cultural Property (July 9, 2012)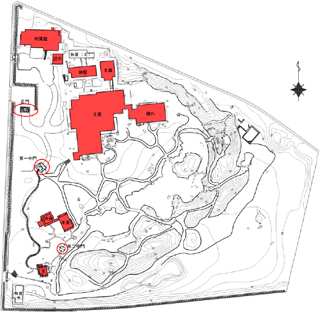 Site plan of Seifuso Villa
Seifuso Villa--an early modern Japanese-style work of architecture built between the end of the Meiji and Taisho periods as a private residence for Kinmochi Saionji--which is currently owned by Kyoto University, was registered as an Important Cultural Property (Building) on July 9, 2012.
Along with the garden, Seifuso Villa was donated to Kyoto University by the Sumitomo family in June 1944 and has been used for educational purposes, guest receptions and conferences.
On June 9, 1951, the garden was designated by the national government as a Special Place of Scenic Beauty. Then, on May 15, 2007, Seifuso Villa was registered as a Tangible Cultural Property (Building) and as such is the first registered Important Cultural Property (Building) within Kyoto University's premises.
From the Agency for Cultural Affairs' Press Release
Sukiya-style buildings employ selected materials and sophisticated techniques ("Modern Period / Residences" category).
Seifuso Villa: 12 buildings
Main house, detached house, dozo (storehouse), annex, guardroom, barn, tea ceremony room, tomomachi (attendant's waiting room), hakamatsuki and machiai (waiting room), first chumon (middle gate), second chumon, and main gate
Located to the east of Kamo River and north of Imadegawa Street, Seifuso Villa was built by the Sumitomo family as a private Kyoto residence for Kinmochi Saionji. The main house was completed in 1912 and its attached buildings were built by 1914.
Buildings are located around the main house in the western half of the premises. On the east side of the main house is the detached house. On the north side are the dozo, barn and annex. To the south is the tea ceremony house and to the west is the main gate. Rooms in the main house are connected to each other via courtyards of varied sizes, and a tatami room on the second floor has views of the Higashiyama mountains. Each building was constructed in the high-quality sukiya style and has a serene interior design suitable for a private residence.
The villa was designed by Jinbee Yagi, Jr., who was a family master carpenter for the Sumitomo family, while certain sections, such as the tea ceremony house and tomomachi, were built by a sukiya carpenter named Senjiro Kamisaka.
As a sukiya-style residence of elegant design--left together with the attached facilities, which were built as integral parts--Seifuso Villa constitutes one of the finest and most significant examples of early modern Japanese-style architecture.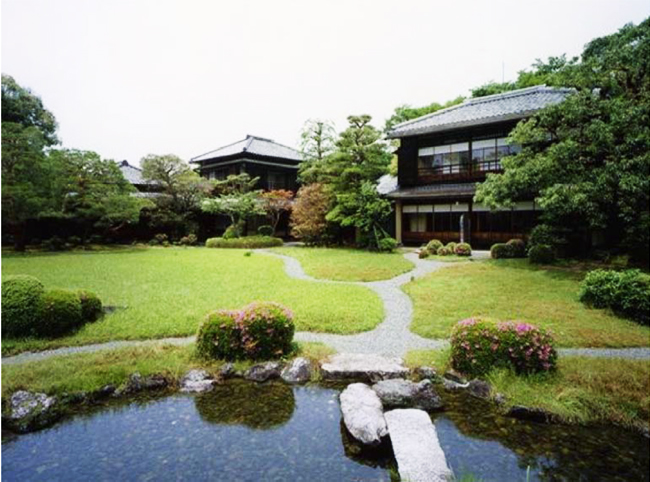 Seifuso Villa and its garden