Nagahiro Minato, 27th President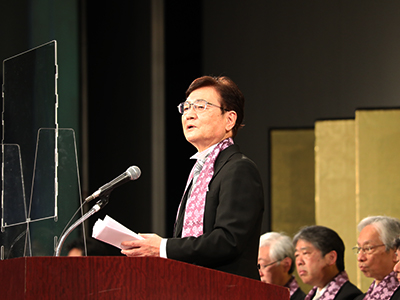 Today, Kyoto University is proud to award 2,211 master's degrees, 176 professional master's degrees, 129 juris doctor degrees, and 473 doctoral degrees. Of these degrees, 101 are being conferred on international students. Let me begin by offering my sincere congratulations to all of our degree recipients on your accomplishments.
As of today's ceremony, Kyoto University will have awarded a total of 88,156 master's degrees, 2,353 professional master's degrees, 2,648 juris doctor degrees, and 47,209 doctoral degrees.
On behalf of the executive vice-presidents, deans and directors, and the Leading Graduate School Program coordinators here today, as well as all other faculty and staff members, I would like to once again extend my congratulations to each and every one of you on receiving your degree.
All of you have worked tirelessly on your research and dissertations amidst the novel coronavirus pandemic, which has continued for more than two years now, causing severe restrictions to be placed on your activities in the lab and field. I would like to express my deep respect and heartfelt congratulations to you for overcoming these extremely challenging conditions and reaching this milestone today. Now as a recipient of an academic degree from Kyoto University, each of you is on your way to taking on an important role in society, whether that is a path leading deeper into the academic world, or a career in another sector. In this sense, the conferral of your degree today is not so much an endpoint, as a starting point.
The year of your degree conferment, 2022, is a special one for Kyoto University. This institution was founded in June 1897 by imperial decree as Kyoto Imperial University. The year 2022 marks the 125th anniversary of that founding. I would like to take this opportunity to talk a little about the University's history. In 1886, eighteen years after the Meiji Restoration, Japan's first state-run university was established in Tokyo as the Imperial University. It first focused primarily on training future government bureaucrats and technologists as part of Japan's quest for modern statehood. Amid a rapid influx of Western academic culture, however, calls grew for the country to develop its own approaches to academic research and higher education. It was against this backdrop that Kyoto Imperial University opened in 1897, while the original Imperial University was renamed Tokyo Imperial University. It is said that the founding of Kyoto Imperial University owes much to the efforts of Kinmochi Saionji, a statesman who led the modernization of Japan in his role as the "last of the genrō", elder statesmen and advisors to the emperor. It is also known that Saionji, a cosmopolitan intellectual who had spent several years of his youth studying in France, had long envisioned a free and innovative university in Kyoto, far from the national seat of government, and dedicated to the genuine pursuit of fundamental truths.
What, then, of our University's graduate schools? Japan's first academic degree system was established in 1887, with the promulgation of the Academic Degree Order. The law was amended ten years later with the founding of Kyoto Imperial University, which in 1899 would enact its Graduate School Regulations. At that point, however, the University did not have a formal graduate curriculum, and awarded only ten or so degrees each year, mostly on the president's recommendation and for dissertations. The Centennial History of Kyoto University includes a firsthand account from those days, written by a 1900 graduate of Tokyo Imperial University: "It is simply because I was originally from Osaka [which is adjacent to Kyoto] … and because I thought it would allow me to pursue my interest in reading, that I decided to apply to Kyoto Imperial University's graduate school. My academic advisor at the school was Tanabe-sensei, under whom I only needed to come to the campus once every two months, and to report on my research progress once every six months."
The "Tanabe-sensei" mentioned here was Sakuro Tanabe, known as the father of modern Japanese civil engineering. He was an alumnus of the Imperial College of Engineering, one of the precursors to the Department of Civil Engineering in Tokyo Imperial University's Faculty of Engineering. He graduated from the college at the age of 22 with a dissertation describing plans for canal works at Lake Biwa. This thesis received international recognition and earned him the Telford Medal, the highest honor bestowed by the Institution of Civil Engineers in the United Kingdom. Immediately upon graduation, Tanabe was commissioned by Kyoto Governor Kunimichi Kitagaki to oversee the construction of a Lake Biwa canal of his own design. The waterway was completed when he was 29 and remains in service to this day. During your time at Kyoto University, many of you may have taken a stroll in the neighborhood around this ceremony venue, and come across the canal and the Keage Power Plant, Japan's first hydroelectric power facility. The plant is one of numerous national projects that Tanabe worked on after returning from an inspection tour to the United States and before he joined Kyoto Imperial University. He became a professor at the University in 1900, at the age of 39, and the president of its engineering college 16 years later.
In 1911, five years before Tanabe became the college president, Hideyo Noguchi, then aged 35, received a doctor of medicine degree from the University. The government gazette that year reported: "On the recommendation of Kyoto Imperial University's pathology department, the minister of education conferred the degree of doctor of medicine on Hideyo Noguchi, a commoner from Fukushima prefecture." As mentioned here, degrees in those days were conferred by the education minister and not by universities themselves. Noguchi's dissertation, a brilliant study of the immunological characteristics of snake venom, remains carefully preserved in the archives of our faculty of medicine.
The graduate school as we know it today, a department centered on educational curricula leading to academic degrees, was first established in the United States in the late 19th century by Johns Hopkins University. Thanks in part to its extremely generous scholarships — each several times greater in value than the cost of annual tuition — Johns Hopkins University's graduate school was able to attract the best and brightest from around the world. The graduate education system eventually spread to other US institutions, including Harvard University and Columbia University, and began to produce tens of thousands of degree recipients annually, many of them going on to hold key positions in government or private enterprises. Graduate degrees in the United States thus came to gain extremely high social utility and prestige. The country's global leadership in scholarship and research since the late 20th century is certainly attributable to this system's success in attracting talented students from around the world to engage in cutting-edge scientific research. In Japan, US-style graduate schools first opened at national universities in 1953, under a newly established system whereby each institution was responsible for awarding degrees, as was the practice in the United States.
Now, as degree recipients of Kyoto University, you are setting out for your respective new places of work or study. So I would like to remind you that the people we meet in new work or study environments are often among the greatest catalysts for our personal transformation and growth. Dr Ryoji Noyori, a 2001 chemistry Nobel laureate and alumnus of our Graduate School of Engineering, often points out that every researcher who has achieved great things with a global impact has switched labs four times on average. My career to date has involved only three such moves, but has included some very meaningful encounters, most notably at a New York lab where I spent the latter half of my twenties after graduating from university. There, I became acquainted with some extremely memorable individuals who have profoundly influenced my thinking and way of life.
One of those individuals was Gordon H. Sato. Born in 1927 in California to a Japanese immigrant father who worked as a fisher and gardener, Gordon spent his high school days during World War II in the harsh Sierra Nevada desert environment of the Manzanar Camp, an internment facility for ethnic Japanese. After the war, he joined the research lab of Professor Max Delbrück at the California Institute of Technology, where he would earn an academic degree. Delbrück would go on to receive the 1969 Nobel Prize in Physiology or Medicine alongside Salvador Luria and one other researcher. At that point, he had already published his seminal study on gene mutations involving bacteriophages, and was in the process of pioneering the field of molecular biology.
Gordon later became a professor of biology at the University of California, San Diego (UCSD). Taking inspiration from new methods of bacterial genetics being developed at UCSD by Delbrück and Luria, he embarked on an extraordinarily bold project: cultivating animal cells in an entirely artificial medium in a test tube, just as one would with bacteria. His efforts yielded a number of important breakthroughs, including the discovery of the essential factors for cell survival and growth, opening the door to the new field of cell biology.
In the summer of 1979, while living in New York, I had the opportunity to stay with Gordon for several days at his home in San Diego. He was a man of few words in private, and I still remember the way he would step out on his veranda each evening, beer in hand, and gaze idly into the far distance. After retiring from the university, Gordon applied his research on the minimal nutritional requirements of cells to develop a food chain-based aquaculture system, in which salt-tolerant algae and small shrimp grew in contaminated salt water to feed large fish. He then went on to successfully build this system in infertile desert regions of Eritrea, one of the world's poorest countries, in a project that involved planting a mangrove forest. This is the now-famous Manzanar Project, for which Gordon was awarded the 2005 Blue Planet Prize, an international award for global environmental achievements.
That ambitious undertaking was undoubtedly inspired by Gordon's own adolescent experience of the privations at the Manzanar internment camp. Looking back now on those summer evenings with Gordon, I imagine that he was already turning his mind to the barren African deserts where people faced constant food shortages.
In 1988, President Ronald Reagan offered a formal apology on behalf of the US government to all Japanese Americans who had been incarcerated during the war. On 19 February this year, exactly 80 years after the executive order for the incarceration was signed, President Joe Biden released a fresh apology containing the Japanese phrase "Nidoto Nai Yoni", which translates to "Let it not happen again". Gordon passed away in 2017, but I will always hold dear his intrepid spirit and ambition to contribute to society through bold, pioneering science.
Here, I would like to strongly urge you to step out and gain some experience of life beyond Japan by spending a period of time in a foreign country while you are still young. Returning to what I said earlier about the conferral of academic degrees: it is more a starting point than an endpoint. I wish you all the best in your future endeavors, and I hope that you can put the abilities you have honed here at Kyoto University to full use.
Once again, please allow me to sincerely congratulate each and every one of you.