Kazuo Oike
Opening address for the 6th Kyoto University International Symposium
"Plant Sciences in Japan and China - from Genomics to Breeding"

Professor Lie Xu, Vice-President of Chinese Academy of Agricultural Sciences, Professor Wan Jianmin, Director of Institute of Crop Sciences, CAAS, all participants, and ladies and gentlemen, I would like to express my deepest appreciation to all of you who attended this the 6th Kyoto University International Symposium in Beijing, China.
As president of Kyoto University, it is a great pleasure for me to make opening remarks at this International Symposium. This is the first symposium to be held in Beijing in this symposium series. I am proud to have been given this honor on this important opportunity.
In the 21st century, we face a rapid increase of population in Asian countries, especially in China and India. This foreshadows a dreadful visitation of famine in the near future. The staple foods of most countries of the world are based on plants, particularly cereals, and there is no doubt that plant science will play an important role in our efforts focusing on the predicted food shortage.
At Kyoto University, plant science researches ranging from basic to applied fields are intensively studied in various divisions of Kyoto University but primarily in the Graduate Schools of Agriculture, Science and Biostudies. We believe that conducting plant science research in cooperation with the international research community will be highly beneficial for research development. Therefore, we chose Beijing, China, where many scientists are engaged in plant sciences as the site for the 6th International Kyoto University Symposium .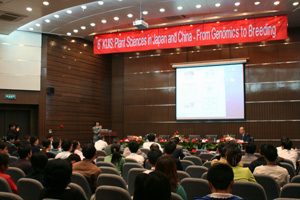 We hope that our presentations of cutting-edge plant technology during this symposium will serve to further stimulate the exchange of researchers and students between Kyoto University and institutions in China, including The Chinese Academy of Agricultural Sciences.
Kyoto University, one of Japan's leading universities, has produced outstanding researchers in all sorts of academic fields, including plant science research. In 2002, the Ministry of Education, Science, Technology, Culture and Sports in Japan, started a new program, Centers of Excellence for the 21st Century. These are competitive grants given to Japan's universities for research and education on various topics. Kyoto University has 23 COE programs, which cover fields such as, Sustainable Energy, Biodiversity, Genomic Analyses and so on... This symposium on "Plant Sciences in Japan and China" is sponsored jointly by one of these COE programs "A Grant for the Biodiversity Research of the 21st Century, COE A14".
From the start of the 21st century, Kyoto University has sponsored an International Symposium once a year in foreign countries. Our objective is not only to deepen global understanding of Kyoto University's creative and advanced research, but also to increase the exchange of both research information and researchers between Kyoto University and outstanding institutions in foreign countries. So it is my great pleasure to hold this international symposium with the Chinese Academy of Agricultural Sciences.
Furthermore, I hope this symposium creates valuable opportunities for the participants from both Kyoto University and the Chinese Academy of Agricultural Sciences, as well as many other researchers in China.
Finally, I would like to express my sincere gratitude to CAAS President Zhai Huqu, Vice-President Liu Xu, Director Wan Jianmin and the other members of the academy for their invaluable support in facilitating this symposium.
Thank you for your attention.