Developing engaging curricula and comfortable learning environments to raise awareness, throughout the university, of the importance of a close relationship with nature as the basis for broad and deep learning and the cultivation of personal integrity and character.
"N" stands for Natural and Noble. Kyoto City, Japan's historic cultural heartland, is embraced on three sides by mountains and blessed with an abundance of natural beauty. Through the ages, researchers at Kyoto University have enjoyed the benefits of this rich environment and the inspiration that it brings. There is no doubt that the university's setting has played a major part in the development of its distinctive character, and in inspiring our scholars towards innovation and new discoveries. To date, Kyoto University has produced nine Nobel laureates, two Fields Medalists, and numerous other recipients of prestigious international awards, and our scholars have pioneered new frontiers in many academic fields, including primatology and philosophy (with the development of the famous Kyoto School of philosophy by Kitaro Nishida). The people of Kyoto have traditionally maintained a close bond with the students of Kyoto University, often providing them with support in their academic endeavors. I believe that the natural and social environment of Kyoto has helped to nurture the integrity and ethical sense of our students. I hope to maintain these admirable traditions, and carry them forward in a manner appropriate for our changing times.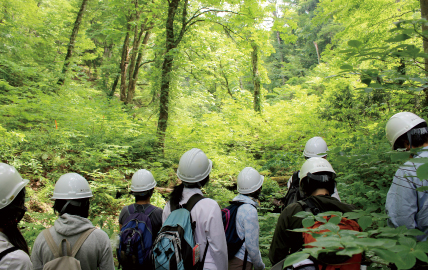 Strategic Priority 3-1
We will develop and enhance the university's education and research environment.
Provision of a comfortable campus environment

1.

We will ensure that our campus environment is conducive to a comfortable student life. We will endeavor to maintain sustainable campuses,* and regularly update the Kyoto University Campus Master Plan* (2013). We will continue our efforts to maintain and manage facilities appropriately to prolong their service life based on the Plan to Prolong the Service Life of Infrastructure. We will reduce the university's environmental load using our environmental tax system, and raise awareness among our students, faculty, and staff of contributing to harmonious coexistence within the world's human and ecological community.
Promoting the health of students, faculty, and staff

2.

With the aim of promoting the physical and mental health of people and society, we will advance the efforts of our Healthy Campus Project. We will not only promote the health of our students, faculty, and staff members, but also foster a culture of valuing health in cooperation with the general public.
Strategic Priority 3-2
We will provide increased opportunities to learn from nature and interact with different cultures.
Fieldwork and curricular enhancement

1.

Based on the values that have been held by the university since its establishment (such as self-directed learning, self-reliance and self-respect, and spontaneity and personal responsibility), and with an emphasis on practical experience, we will expand curricular opportunities for students to learn from nature, experience Kyoto's historical and cultural heritage, and experience different cultures. We will enhance exchange activities in cooperation with government, industrial, and private sector organizations.
Strategic Priority 3-3
We will strengthen our compliance framework.
Stronger compliance

1.

In order to maintain a sound ethical sense among our students, faculty, and staff, and in order to maintain and increase society's confidence in the university, we will employ a comprehensive framework to enhance compliance education and awareness of compliance responsibilities. We will also develop the university's systems and infrastructure with an emphasis on risk management and preventative measures.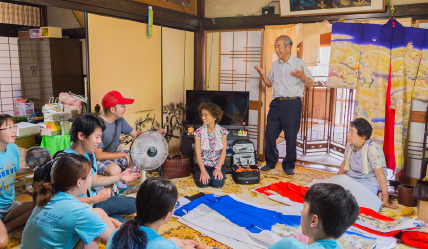 A "green wall," which contributes to the reduction of building temperature and energy conservation

The ÉCOle de Kyodai Early Summer Campaign

Discussion about student perspectives on health promotion at the Kyoto University Healthy Campus kick-off forum

Participants of the Kyoto University Healthy Campus kick-off forum