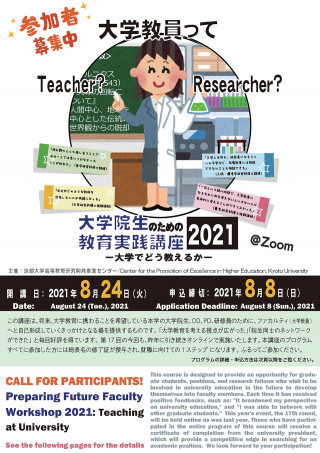 Registration required
Registration required
Presented by the Kyoto University Center for the Promotion of Excellence in Higher Education (CPEHE), this workshop offers an opportunity for aspiring faculty — graduate students, postdocs, and research fellows — to take a first step toward a successful university teaching career. Previous participants have said: "It has broadened my perspective on university education," and "It was a great opportunity to network with other graduate students."
This year's workshop, the 17th, will be held online as was the 2020 edition, and will award full participants with a certificate of completion signed by the KyotoU President.
CPEHE looks forward to your participation.
Basic info
Venue
Audience
Current Students & Staff
Alumni
Corporations & Researchers
Graduate students, postdocs, research fellows, and other early-career researchers
Max attendees
Up to 20 people per session (accepted on a first-come, first-served basis)
Details
Program
See this notification document, also available via the workshop page.
Language
The event will mainly be in Japanese except for the English-language session "Workshop in English: Designing a Course" in Room 5. Additionally, slides in plenary sessions will be in both languages.
Registration
Procedure
Select one of the following sessions and apply via the linked form.
Deadline
Registration will close when capacity is reached.
Contact info
Center for the Promotion of Excellence in Higher Education (CPEHE), Kyoto University
insei2021*highedu.kyoto-u.ac.jp (replace * with @)
Related departments & centers