Yoshida-Honmachi, Sakyo-ku, Kyoto 606-8501
Phone: (075)753-2515
Fax: (075)753-2594
Email: counseling*www.adm.kyoto-u.ac.jp (replace * with @)
Director: Kenji Aoki
Counseling Center provides counseling services mainly in Japanese. If you are a student from foreign countries who cannot speak Japanese, please consult to the International Center of Kyoto University.
The Counseling Center was established in 1999, by reorganization of the Student Counseling Center, which was established in 1956. The main purpose of the reorganization was expanding its target from students to all members of Kyoto University, including staffs, and receiving applications of sexual harassment counseling.
The Center has a staff of five full-time counselors, five part-time counselors and one assistant.
The Center is administrated by a committee consisting of one of vice-presidents, director of the center, professors from each faculty/graduate school, counselors of the center, and some professional advisers including a psychologist, a psychiatrist, and a physician.
Every year, about 500 students and staffs come to the Center for counseling, and about 4,500-5,000 interviews are conducted.
The followings are the main activities of the Center:
Services
Individual counseling on any problems of students and staffs, including academic problems, occupational problems, psychological problems, and harassment
Psychological testing needed for counseling.3.Group counseling, encounter group, and other kinds of group work
Crisis intervention
Casework
Holding orientations for incoming freshmen in cooperation with faculties
Holding seminars or symposiums for enlightenment to students and staffs
Holding seminars or symposiums for university counselors
Investigation and research
Investigation of adjustment problems of drop-outs, career problems, and emotional problems relating to mental health
Investigation of student personnel services in connection with higher education
Periodical bulletin
Archives of Counseling in the Kyoto University Counseling Center (annual publishing)
(Renamed from Archives of Counseling in the Kyoto University Student Counseling Center; twenty-eight volumes published to date)
Staff
Director and Professor
Kenji Aoki (Clinical Psychology)
Full-time counselors
Professors
Kenji Aoki (Clinical Psychology)
Yasushi Sugihara (Clinical Psychology)
Associate Professor
Katsuko Murakami (Clinical Psychology)
Lecturers
Junko Nakagawa (Clinical Psychology)
Ryuta Wada (Clinical Psychology)
Location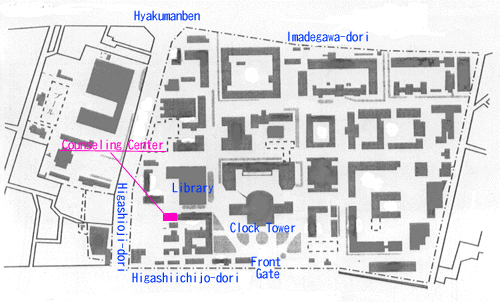 If you are a foreign student studying in Kyoto University, have some trouble living in Japan, and are looking for guidance or counseling services, then visit also The Center for Student Exchange.