A Timeless Backdrop for the Lives of Kyoto University Students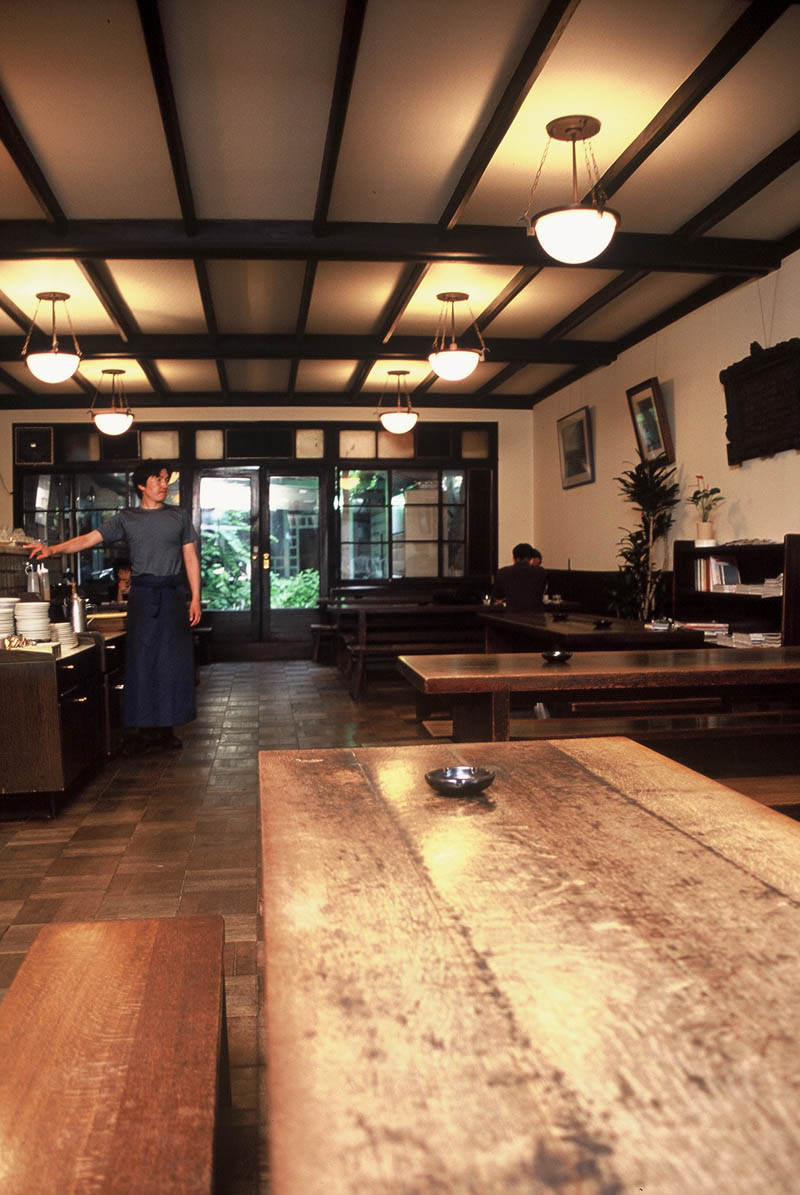 Shinshindo Cafe, on Imadegawa Dori across from the Kyoto University Campus, is one of those places where time seems to stand still. Since it first opened in 1930, generations of students from the university have accumulated several decades' worth of memories here, memories of meeting and talking among friends and studying hard alike. The tables and chairs, designed to make it easier for students to study, were made by Tatsuaki Kuroda, who also made the Meiji Emperor's throne. The sensibilities of original owner, Hitoshi Tsuzuki, who was himself a poet, can still be felt throughout the room, even today.
It hasn't always been peace and quiet for the cafe in the over 70 years since it was first opened, however. The cafe turned its elegant courtyard into an air-raid shelter during World War II, while students tossed Molotov cocktails all along Imadegawa Dori when the student demonstrations in the late 1960s were at their most radical. And yet, even during this period, students erected a barricade in front of the cafe, apparently feeling that they had to protect Shinshindo from the surrounding violence. "It was a lively place at the time, with debates springing up here, there, and everywhere," says Prof. Munemoto of the University's Graduate School of Engineering, who was himself a Kyoto University student at the time. In recent times, however, it has become a much quieter place, with more and more students studying or reading books by themselves.
Satoshi Kawaguchi, great-grandson of Hitoshi Tsuzuki, is the fourth owner of Shinshindo. "At this point, my main goal is just to keep the place running," he says, "even though it would be easy to go and start something new." His remarks indicate the difficulties inherent in keeping a cafe going, when it has such an established tradition as this one has.
The smooth, amber-colored tables have seen generations of young Kyoto University students come and go. We hope that this small but precious treasure will continue unchanged forever.
| | |
| --- | --- |
| | A menber of the brass band club practicing for an upcoming concert. He says, "Spring is really the best time along the Kamo River; the contrast between the pink cherry blossoms and the green is really beautifil." |
| | |
| --- | --- |
| | The Cafe (Exterior View) |
| | |
| --- | --- |
| | Outdoor seating in the cafe's courtyard, at the time the cafe first opened, with Kyoto University students relaxing. |