Site for Contemplation that Gave Rise to the "Kyoto School" of Philosophy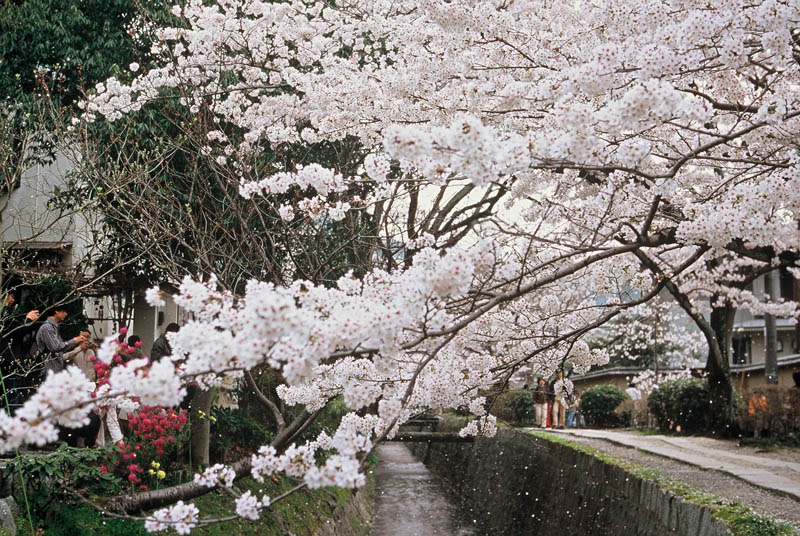 Ginkakuji temple, a designated National Treasure, lies nestled in the lush green peaks of Higashiyama, about a 15-minute walk east along Imadegawa Street from the Kyoto University Yoshida Campus. If you turn right off that road, just before you reach the entrance to Ginkakuji, you will find a path, known as "Philosopher's Path," that runs south for about 1.5km along the creek, a branch of the Lake Biwa Canal, at the foot of Higashiyama mauntains. Despite its unusual name, this little path appears completely ordinary. Appearances to the contrary, however, this site is one of the most famous tourist sites in Kyoto. The reasons for this are twofold: first is the spectacular cherry trees planted along the roadside. Whether it is the blooming of the cherry blossoms in spring, the green leaves of summer, the turning of the leaves in fall, or the dusting of snow in winter, these trees look beautiful in any season, providing comfort to those who walk under them.
Second is the reason for the path's name. Prior to the Second World War, Kyoto Imperial University gave rise to a group of talented academics known as the "Kyoto School." The story goes that its leaders, particularly the philosopher Professor Kitaro Nishida and the economist Professor Hajime Kawakami resided in this neighborhood, and would walk this path frequently, lost in thought. Nearly all professors at that time lived near the university, creating a place where they could meet and mingle without regard for their respective specializations. At the same time, there was a place close at hand where they could go to be by themselves, and just think. Western philosophy began in the forums, while Nishida's philosophy was born on a street. Who can say what sort of sites for exchange and contemplation will give rise to the next change in Kyoto University's knowledge paradigms?
| | |
| --- | --- |
| | "Philosopher's Path" is famous for the flower tunnel during thecherry blossoms season. Many tourists come here each year,including many Kyoto University students, who come for "hanami"(cherry-blossom watching parties), including parties held towelcome incoming newcomers. |
| | |
| --- | --- |
| | Kitaro Nishida's memorial: Kitaro Nishida (1870-1945) was one of Japan's premierphilosophers, author of such books as "Zen no Kenkyu" (The Study of Goodness). This memorial is engraved with his own philosophy of life, which roughly translates as, "You are you, and I am I, and I will live as I believe. |
| | |
| --- | --- |
| | The entrance to Honenin temple, along the "Philosopher's Path" trail. Renowned academics who taught at Kyoto University are buried here, including Hajime Kawakami and Konan Naito. |