A Place to Rest Amid Abundant Natural Beauty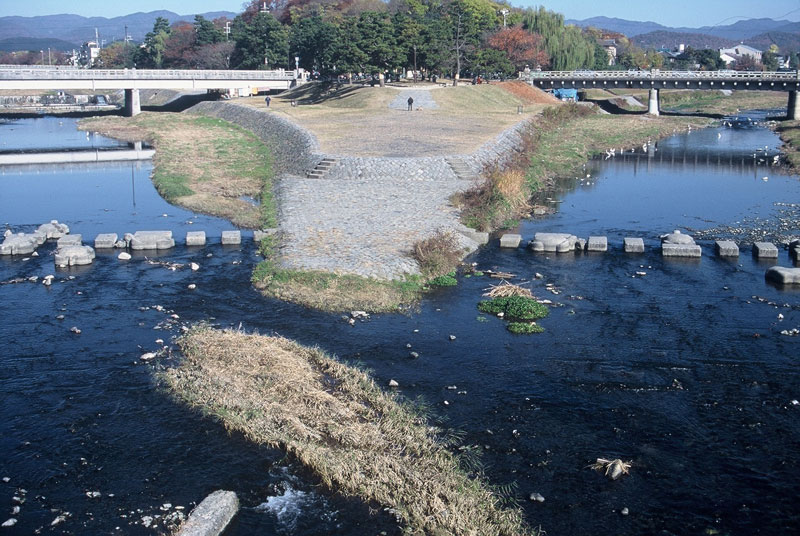 The Kamo River flows through the city of Kyoto from north to south. It has been beloved as the embodiment of the spirit of Kyoto. The river's headstream is located in Kumogahata, in the city's northwest portion. There, individual drops seeping from the rock eventually unite into a single flow that merges with the Takano River, flowing from the northeast, at Demachiyanagi near Kyoto University. Today the river is host to a rich ecosystem. In the spring many different flowers bloom, with the magnificent cherry blossoms taking pride of place. In the summer the river is alive with fish such as sweetfish and insects, and birds such as the wagtail and heron make their appearance. Then, as the leaves change to a deep crimson, the black-headed gulls arrive, having traveled all the way from Siberia, to announce the coming of winter.
Many people gather along the riverbed, captivated by the gurgling sound of the water and the birds flitting playfully about the surface of the river. There are joggers, married couples out for a stroll, young people sitting on the benches indulging in reading books, families enjoying picnic lunches, sweethearts huddling together. Among all this activity you're likely to see some Kyoto University students running or practicing musical instruments. For these students the area beside the Kamo River is both an athletic field for sports club practice and a familiar spot to just go and relax.
| | |
| --- | --- |
| | A menber of the brass band club practicing for an upcoming concert. He says, "Spring is really the best time along the Kamo River; the contrast between the pink cherry blossoms and the green is really beautifil." |
| | |
| --- | --- |
| | Stepping stones shaped like turtles. It is possible to walk right across to the opposite share. |
| | |
| --- | --- |
| | On holidays you may see parents with children feeding to the birds. |