Congratulations, Honjo-sensei!
Join us as we celebrate the 2018 Nobel Prize in Physiology or Medicine, awarded jointly to Tasuku Honjo, distinguished professor of Kyoto University, and James P Allison, of the University of Texas, "for their discovery of cancer therapy by inhibition of negative immune regulation."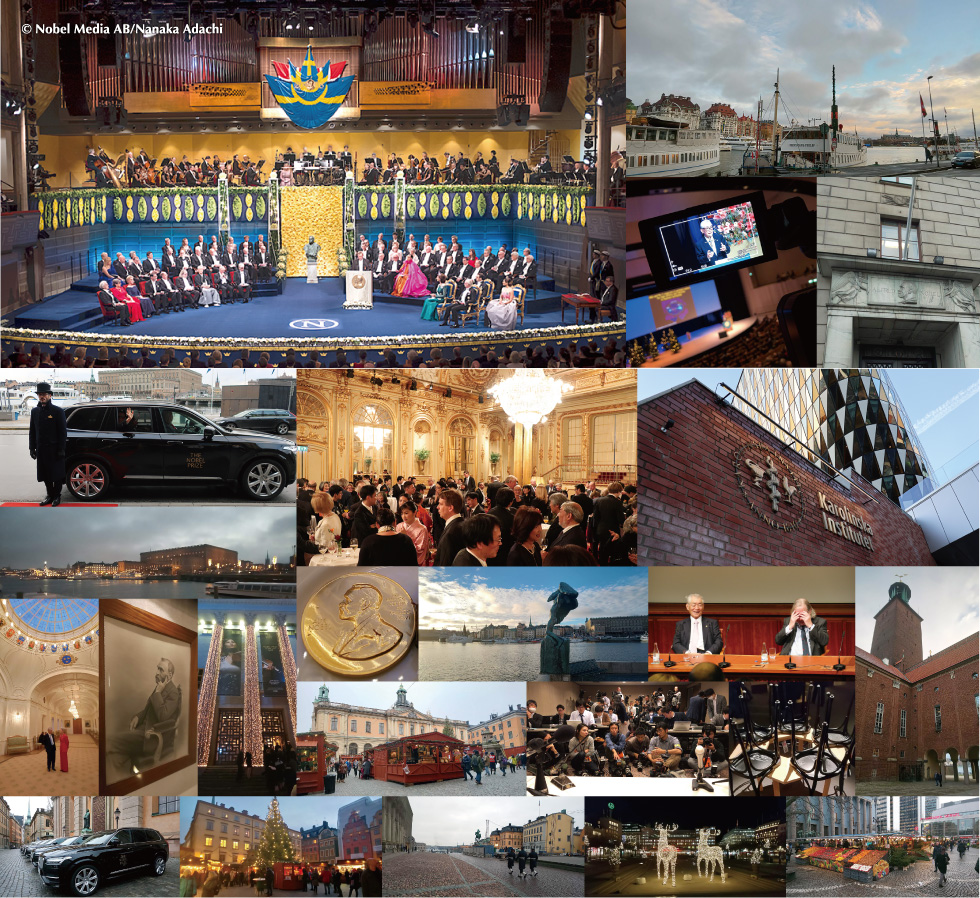 The articles below follow Honjo from the announcement of the prize in early October, to his attendance at 'Nobel week' in Stockholm in early December, and then to his return to Kyoto later that month. Interspersed are discussions he had with prominent KyotoU scholars and an introduction to the science behind PD-1 and cancer immunotherapy.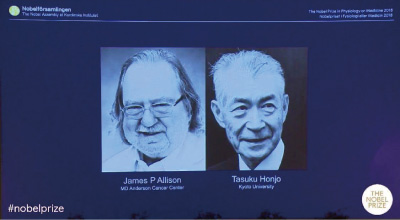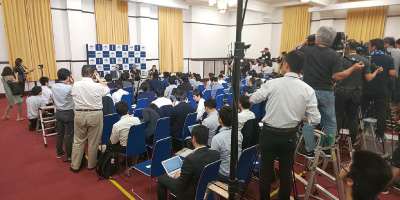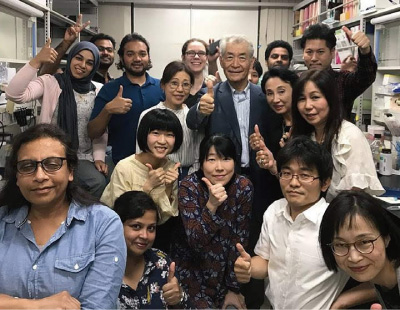 The announcement
Monday 1 October 2018, shortly past 18.30. With a bevy of news trucks parked outside the Clock Tower in anticipation, the live stream from Stockholm broke the news of Honjo and Allison's joint award. A few minutes later, Honjo, President Juichi Yamagiwa, and ExecVP/Provost Nagahiro Minato sat down in front of the amassed reporters and cameras for their first press conference.
The most indelible image of the evening, first released by the Nobel Foundation, was of Honjo surrounded by celebrating lab members. The photograph — taken at the behest of Stockholm using Honjo's own phone — captured the global flavor of his research team.
The following morning, Honjo was back at the Clock Tower for more in a continuing round of interviews, congratulatory phone calls, and a more personal press conference together with his wife Shigeko.
The interim
October and November. The initial excitement of the announcement was followed by two frenzied months, during which Honjo made government courtesy calls in Tokyo, gave numerous television interviews, and started into his preparations for the trip to Sweden, all while continuing his typically non-stop schedule of research meetings and appearances.
Nobel week
Wednesday 5 December, early morning. Dr and Mrs Honjo arrived at Kansai International Airport, where a room full of reporters queried him on his final thoughts before departure. Ending weeks of speculation, he announced his intention to donate a majority of his prize money to a fund to support early career researchers.
The Honjos, accompanied by University support staff, then boarded a flight en route first to Helsinki.
Same day, late evening. As soon as the Honjos' Finnair plane parked at the gate at Stockholm's Arlanda Airport, the Swedish government's attaché assigned to Honjo boarded to whisk them past the crowds and entry procedures. Within minutes they were in their black, chauffeured Nobel vehicle, on their way to downtown Stockholm.
Meanwhile a jostling crowd of Japanese reporters and news cameras were waiting on the edges of the red carpet in front of the Grand Hôtel, craning to catch a glimpse of the new laureate as he stepped out of the car. Nobel week had begun.
Thursday 6 December, morning. Laureates, accompanied by their families and guests, gathered at the nearby Nobel Museum for a half-day of informal welcoming into the traditions of the institution, as well as an opportunity to sign one of the café chairs. Honjo donated a framed, four-character saying, written in his own hand, reading: yû-shi kyô-sei, or "Without ambition, nothing is acheived".
The highlight of the afternoon was a joint press conference at the Nobel Forum, during which Honjo and Allison's discussions of their research and consequences for cancer treatment were interspersed with lighter moments about their personal lives.

Friday 7 December. Honjo had stated before departing from Japan that he was particularly looking forward to his official Nobel lecture, and this moment came on Friday afternoon at the immense Aula Medica of the Karolinska Institutet. Speaking to a capacity crowd of medical students, young scientists, and ordinary citizens inspired by his work, Honjo delivered a passionate account of his decades-long quest to unravel the mysteries of the body's immune system. Mixing descriptions of the scientific processes with anecdotes about his life and numerous collaborators, he painted a picture of the immense complexity that exists in all our bodies, ending on the note that we have evolution to thank for the intricate systems that maintain our health. The hour-long speech was widely praised as being one of the best on record by any laureate.
Saturday and Sunday 8–9 December. With the hard work under his belt, Honjo could now concentrate on many other, lighter activities, while preparing for Monday's ceremony and banquet.
Saturday started with a Japanese press interview, followed by a reception and press conference hosted by the Japanese ambassador to Sweden and including a courtesy visit with the Swedish minister for science. In the evening, all the laureates and their families and guests joined members of the Swedish royal family for a gala Nobel concert at the Stockholm Concert Hall, which would then become the venue for Monday's award ceremony.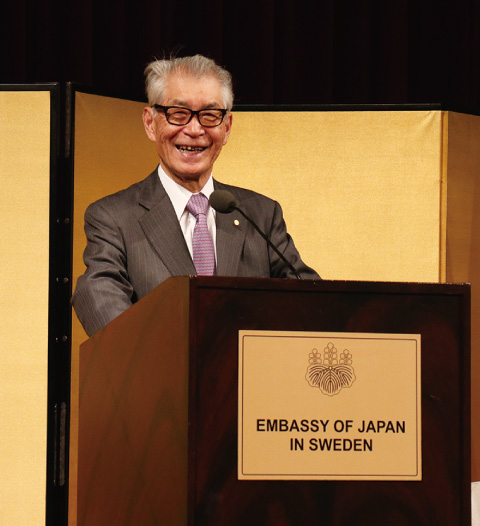 Sunday was punctuated with meetings such as with KyotoU's Yamagiwa and Minato (see below), and an emotional event where Honjo and Allison met with cancer survivors whose lives had been saved thanks to the two scholars' research. After many hugs and moist eyes, Honjo spoke to Swedish television crews covering the event of how much it means to him to see the positive effects of what he had achieved.
Later in the afternoon there was some short time for a family outing, to see the historic sailing vessel Vasa. While the museum housing the immense, preserved ship is open to the public, only visiting heads of state and Nobel laureates are allowed to actual go onboard.
Monday 10 December. The long- anticipated day of greatest pomp and circumstance began quietly with a rehearsal in the morning, followed by elaborate dressing — and for the ladies, hairdressing — associated with Japanese traditional formal wear. Honjo's black haori hakama, emblazoned with his family crest, was noted in the Swedish media as being a breath of fresh air amongst an "ocean of tuxedoes". The weather, which had been largely grey up to that point, suddenly brightened as the winter sun lightened the sky and the city.
At the ceremony itself, where Honjo and his Nobel peers received certificates and medals from the Swedish monarch, King Carl XVI Gustaf, the assembled were treated to an enlightening musical rendition of how Honjo and Allison's discoveries released the 'brakes' on the body's immune system, first with a solo violin playing a melody from Bizet's Carmen Suite, followed by the full orchestra, illustrating newly found vigor in a fight against cancer cells.
Laureates and guests then followed the King and royal family to the vast Blue Hall of the historic Stadshus, where they leisurely consumed a banquet dinner interspersed with music and dance performances and endless conversations around the long tables. With much fanfare, Honjo had the honor of delivering a final speech (see below), marking the end of the meal and the beginning of further festivities that would continue throughout the night, concurrent to Swedish observation of the festival of St Lucia.
Tuesday and Wednesday 11–12 December. Following such a long day and night, most laureates chose not schedule anything immediately afterward, but Honjo was active as always, attending a luncheon at the Japanese ambassador's residence and then being joined by chemistry laureate Frances Arnold for an open discussion at the Swedish parliament, where young legislators with a science and health policy bent asked the two luminaries for their opinions on promoting science education and improving public health.
A second session of dressing and hairdressing followed, ahead of an evening's banquet as guests of the royal house, in the stately palace just across the channel from the Grand Hôtel.
Then on Wednesday morning Honjo and Allison paid a final visit to Karolinska, this time for an informal session with young researchers, who peppered the two with deep and probing scientific questions, often bringing out the humor in the two men. The afternoon saw all the laureates reunited at the Concert Hall, this time for a recording of the annual "Nobel Minds" program for the BBC and Swedish national television.
Thursday 13 December. The final day was back to grey skies, as the Honjos paid farewell to the hotel staff and made their way to the Nobel Foundation. Here, as tradition dictates, Honjo sat in Alfred Nobel's chair to sign a book of laureates, remarking that the experience of being in that place, as with Einstein and Yukawa and many more before him, left a deep impression on him. Taking a wreath then to Nobel's grave, the Honjos sped off to Arlanda and the voyage home.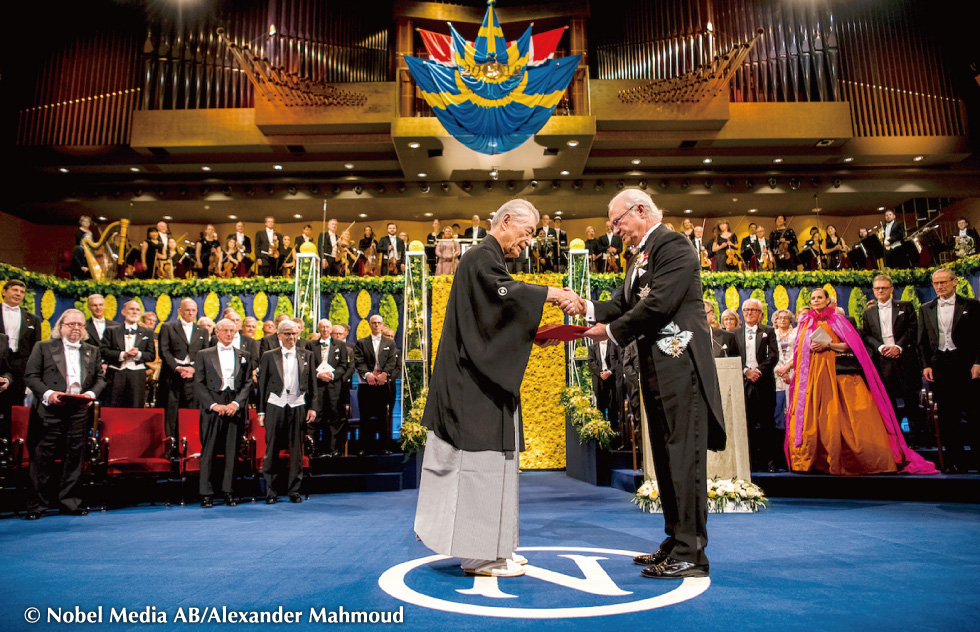 The return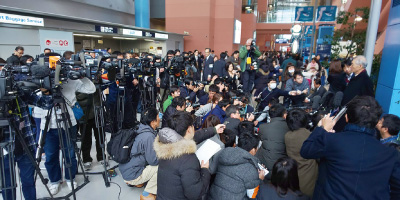 Friday 14 December. The initial mass of reporters in Stockholm had dwindled to a handful by the end of Nobel week, but upon setting foot in Osaka, Honjo was quickly reminded of the baited breath with which the news media were still following his movements. Displaying the Nobel medal for the first time to the press gathered outside the arrivals area at KIX, Honjo renewed his determination to continue supporting younger colleagues, advancing his field, and promoting basic research across the nation.
Honjo's speech at the Nobel banquet
"Your Majesties, your Royal highnesses, excellencies, dear laureates, ladies and gentlemen,
On behalf of [fellow laureate] Professor Jim Allison and myself, I wish to express our heartful appreciation to the Nobel Assembly of the Karolinska Institute and the Nobel Foundation.
Cancer has been the number one cause of death during the last half-century. The trend is getting even worse as the average life span increases.
The concept of cancer immunotherapy was theoretically proposed by the Australian Nobel laureate Sir Frank Macfarlane Burnet over sixty years ago, and since then, a large number of people have tried to apply it, but without success. This was probably because their efforts focused on pushing the accelerators of the immune system. Jim and I independently discovered that the reactivation of the immune system by blocking two major negative regulators, CTLA4 and PD-1, can cure a significant portion of cancer patients. Fortunately, our experiments in mouse models were successfully applied to humans. As a result, Jim and I have experienced many occasions that have made us feel well rewarded, such as meeting cancer patients who say their lives were saved by our therapies.
Cancer immunotherapy is possible because we have a highly sophisticated immune system called 'acquired immunity', which can catch small changes in tumor cells. How could we develop such a sophisticated immune recognition system that employs gene rearrangement? The genetic rearrangement mechanism must have developed accidentally — probably about five hundred million years ago, when vertebrates evolved. Thereafter, it must have persisted through natural selection due to the advantage of surviving infectious diseases.
Considering that the chance of such mutation and selection must be unbelievably low, we human beings are all very fortunate.
Jim and I both know that the development of our discovery is just beginning, as currently only 20 to 30 percent of patients respond to the immunotherapy. Andy Coghlan and Dan Chen described our discovery as the cancer equivalent of penicillin, which gave rise to a whole generation of antibiotics that changed medicine, and consigned most previously fatal infections to history. We encourage many more scientists to join us in our efforts to keep improving cancer immunotherapy. We sincerely hope this treatment will reach far and wide so that everybody on our planet can benefit from this evolutionary gift for healthy life.
Jim and I acknowledge that we were selected for this highest of all scientific honors. We accept the distinction with our deepest gratitude for the great institutions that have supported our work, for our many devoted and skilled coworkers, without whom our achievements would have been impossible, and, finally, for Alfred Nobel for his wisdom to institute the prize and the people of Sweden for a fantastic Nobel Week.
Thank you."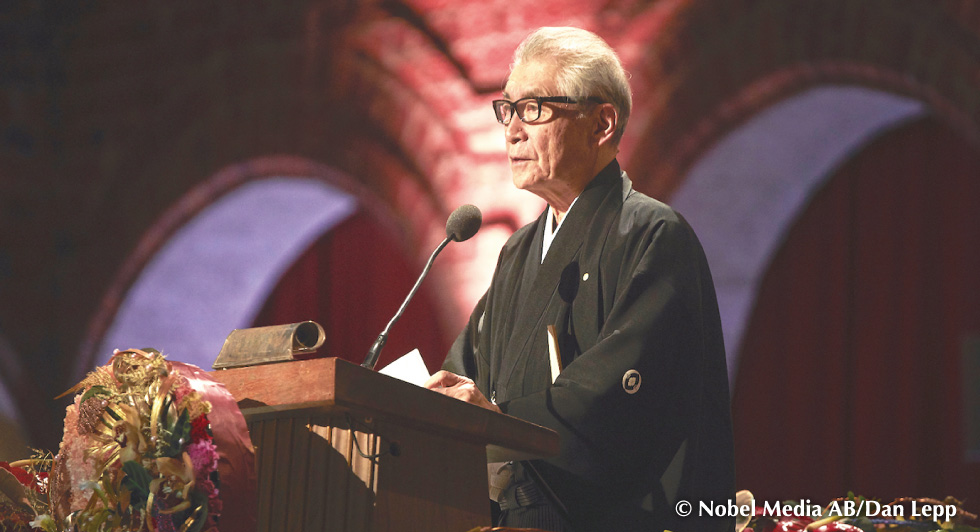 Defining 'Kyotoness' in the research environment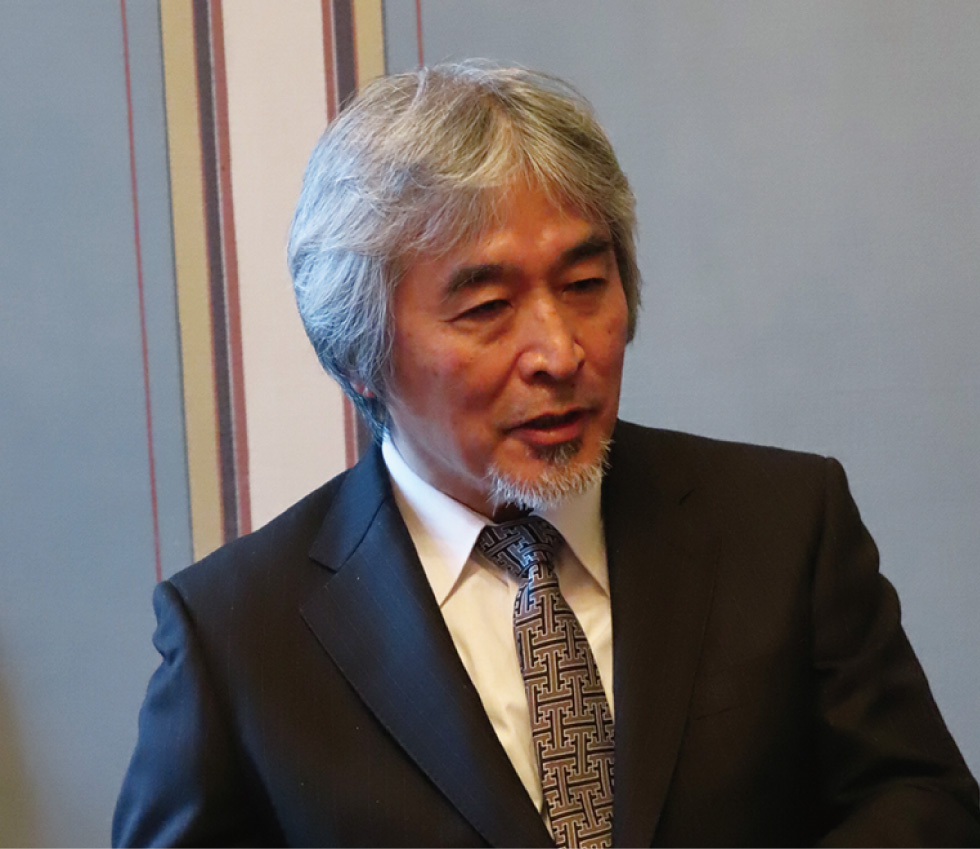 "I have an unusual boast," says Honjo wryly, "for there are not many in Japan who have been on the payroll of all three universities of Tokyo, Osaka, and Kyoto."
These experiences, together with time spent in the United States, have given him a unique perspective in understanding what makes Kyoto a special place for a researcher.
In an historic salon room at the Grand Hôtel, overlooking Stockholm harbor, Honjo managed to take a short break from his hectic Nobel week schedule to sit down on Sunday afternoon with two colleagues, Drs Yamagiwa and Minato, respectively the President and the Executive Vice President for research/Provost. Yamagiwa is a preeminent primatologist, and Minato, in addition to being a leading immunologist, is a long-time collaborator of Honjo's.
"Throughout my career, I have been fortunate to be able to learn from others, without having to study everything from the basics myself. This 'ear-training' served me well at all three universities, and when I returned to Kyoto, I realized that the environment of the medical school was particularly open to sharing knowledge."
"For example in immunology," says Honjo, "I was a total newcomer. Dr Minato helped me understand what was what."
Minato laughs at Honjo's unexpected show of modesty. "Our field was really not very rigorous until Dr Honjo appeared. It was interesting, and there was a great deal of fascinating work going on, but a solid, molecular and genetic foundation for the processes we were observing had yet to be established.
"Dr Honjo arrived and immediately began asking pointed questions. It quickly dawned on the younger faculty that we needed more knowledge about the scientific foundations, and he pointed the way for us."
It is an enlightening moment, demonstrating how cross-seeding of experiences and knowledge can lead to new and unexpected outcomes.
"What makes Kyoto a special place for you, as a researcher?" probes Yamagiwa.
"The quiet, peaceful atmosphere," says Honjo, "and the freedom to pursue your curiosity. For years we didn't know what PD-1 did, but we did have a feeling it must be important.
"When all the pieces came into place, the link to cancer became obvious to us, thanks to having had the time to discover this and a lack of constraints. Kyoto made this possible for us."
Driven by curiosity
Nowhere else in Asia can you find a single university with two Nobel laureates active among its research faculty. Curious as to what might result from a discussion between the two scientists — Dr Honjo and Shinya Yamanaka, the director of the Center for iPS Cell Research and Application, CiRA, and the 2012 Nobel laureate in medicine — ExecVP/Provost Minato suggested that an open discussion would be good for students, and a special event was arranged for 27 December 2018 in the historic Memorial Auditorium on the med school campus. An excerpt follows.
Minato: In closing, we all have different reasons for being researchers, but what motivates you? What is your approach to devoting your life to science?
Honjo: Research has always been a joy for me; I can't recall a moment when I've suffered so much that I wanted to stop doing it.
Nonetheless there comes a moment when anyone seeks deeper meaning in life, whether to make money, or to pursue something for love. In that sense, the life of a researcher isn't for everyone. It's not something you can just stumble into. If you find yourself asking "what should I do?" then that's not the right mindset.
To be a scientist, you need a constant drive of curiosity and the motivation to pursue the answers on your own. As children, everyone has the potential to become anything. As you then grow up, you learn your likes and limits, and a vision of yourself takes shape.
I chose the study of immunology. I wish you all the best as you seek to find what is your lifelong motivation.
Yamanaka: Dr Honjo puts it very well. You must enjoy what you are doing in order to be a scientist.
I began my career as an orthopedic surgeon, something I wanted to be from a young age. But I soon realized that I wasn't very good at it, so I tried my hand at research.
In one of my first experiments I had to test a drug that would raise the blood pressure of a mouse. Surprisingly, the blood pressure fell! But what most astonished me was my own reaction: I was excited by this unexpected result.
This experience galvanized my idea of becoming a researcher; I simply followed the questions and results that interested me. I then went to the United States to study arteriosclerosis, but when the gene I was focusing on was linked to cancer, I became fascinated with cancer research. Cancer then led me to stem cells.
I was always simply pursuing my curiosity. Dr Honjo and I have followed different, but equally valid paths. The common threads are that we both have immense curiosity and the motivation to try to find answers to the unexpected.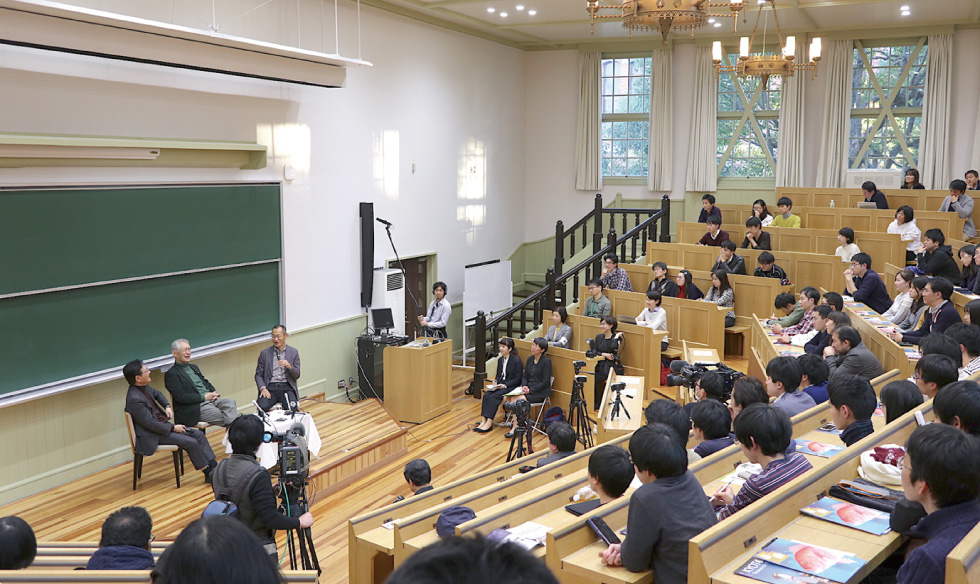 What is PD-1, and why a Nobel prize for it?
Understanding how the immune system can be coaxed to fight cancer
Cancer is caused by irregular division and proliferation of our own cells. Normally, the immune system identifies and eliminates such anomalies, but under some circumstances these cells evade natural defenses and grow to the point of threatening essential body functions.
Surgery, radiation, and chemotherapy are established methods of cancer combat, and even the idea of recruiting the immune system in the fight isn't new. As stated in his banquet speech, Honjo gives credit for the concept to a 1960 medicine laureate. For decades it just wasn't clear how to actually make this work.
The immune system is the body's way to find and eliminate harmful, foreign elements, such as invasive bacteria and viruses. Specialized 'T' cells are the system's infantry, carrying receptors on their surfaces for detecting unwanted outsiders.
However, an intricate balance must be maintained so that the body doesn't attack itself. When this occurs, such as is suspected in the case of dangerous allergic reactions, the result can be swift and fatal.
In 1992, Tasuku Honjo discovered PD-1, a protein on the surface of T-cells. While not immediately sure of its function, years of diligent experiments led him and his team to a realization that the protein acts as a 'brake' on the T-cell, stopping it from causing an immune response. Eventually they recognized further that blocking PD-1 could activate the immune system to attack cancer.
One of the ways cancer cells avoid being detected by our immune system is by blocking the PD-1 receptor with another receptor, PD-L1. When PD-L1 on a cancer cells binds with PD-1 on a T-cell, it steps on the 'brake', protecting the cancer.
The immune system is tricked into thinking that the cancer is a normal part of the body.
So by stopping these receptors from binding, Honjo developed a way to release the brake, freeing the immune system to fight the abnormal cells.
22 years after the discovery of PD-1, a cancer drug based on Honjo's finding was first approved for use in Japan, sending a shockwave through the world of cancer treatment.
But as is often the case in science, these few answers generated even more questions, and Honjo states frequently that he cannot retire, because "there is still so much that we simply don't know."