Special Exhibitions at the KU Museum
In addition its permanent exhibition, the Kyoto University Museum regularly hosts special exhibitions. The following are currently scheduled special exhibitions: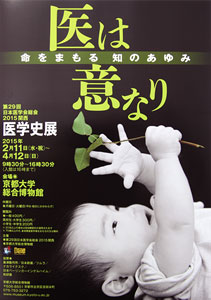 ◆The Will to Heal:
The Development of Medical Knowledge to Save Lives
This special exhibition presents the achievements of the forerunners of modern medicine who devoted themselves to the development of medicine in and after the Edo period. Focusing primarily on the Kansai area, the exhibition gives an overview of the development of medicine, nursing, midwifery, drug discovery, and medical technology from the Meiji period up to the present day. The exhibition also takes a look at today's cutting-edge medicine.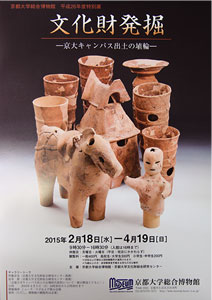 ◆Unearthing Cultural Treasures:
Clay Figures Excavated on the Kyoto University Campus
Kyoto University's Center for Cultural Heritage Studies carries out comprehensive research on cultural artifacts unearthed on the university's campuses. Over a period of thirty-five years, the center has been engaged in the analysis and preservation of cultural property excavated from a combined area of 100,000m2.
This special exhibition presents a selection of artifacts from the Tumulus period which were excavated from Kyoto University's Yoshida Campus.